Stand Up & Oktoberfest 6.10 and 27.10
Friday 6.10 and Friday  27.10.
At 19.00 – 23.00 o'clock
Vanha Viilatehdas, Kuninkaantie 28, Vantaa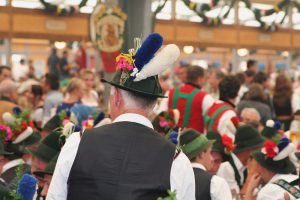 Kuninkaan Lohets popular Stand- up club evenings continues! Stop the depressing autumn and come and enjoy some hilarious humor!  Book now your tickets to the most thrilling and fun autumn evening! Don´t hesitate, the evenings will be sold out!
Friday 6.10 comedians
The host is Antti Haapala. On the stage also: Mikko Kauppinen, Tomi Walamies, Bahar Tokat, Rich Lyons
Friday 27.10 comedians
The host is Ali Jahangiri. On the stage also: Mika Niva, Paul Westlake, Inka Valima, Tommi Mujunen
Oktoberbuffet
Salad with a mustard vinaigrette
Apple salad and smoked cheese
Potato salad
Salad with smoked salmon
Smoked-paprika coleslaw and grilled chicken
Pretzels with blue cheese mousse
Assortment of sausages, sauerkraut
Braised pork shanks
Red onion and potato hash
Apple strudel, vanilla ice cream and cinnamon sauce
Ticket price
59,00 € / person, incl. Buffet and an evening program
Call soon and book yours tel. (09) 253 253 00 or myyntipalvelu@kuninkaanlohet.com or fill out the booking form.
Finland 100 years- The Independence Day party at Vanha Viilatehdas
Wednesday 6.12.2017

At 13.00 – 17.00 o'clock
Vanha Viilatehdas, Kuninkaantie 28, Vantaa
The independent Finland turns 100 years! Come and enjoy Kuninkaan Lohets Independence day celebration menu companied by Hannu Lehtonens lovely singing.

This charming baritone has sang his way in to the hearts of the Finnish people. He performs strong melodies from the independences first years until the modern day. Accompanied by accordionist Jarno Kuusisto.
Dresscode: Black tie
Menu
(Choose your main course when you book the table)
Starter buffet
Green salad with a sea-buckthorn vinaigrette
Cauliflower brioche
Fennel with orange
Caramelized black salsify and saffron mayonnaise
Potato salad spiced with spruce oil and pickled funnel chanterelle
Roe mousse cake
Slightly salted char and pickled cucumber
Cold smoked Baltic herring stuffed with citrus crème
Smoked duck breast and barley salad
Bird liver terrine and sugar coated cranberries
Cured deer and black currant mustard
House white bread, flat bread, rye bread
Butter and Kuninkaan Lohets herb butter
Maincourse options (choose in advance)
Smoked broad bean patties and nutty pumpkin risotto
Pan-fried whitefish, sea-buckthorn butter sauce and Jerusalem artichoke-potato puree.
Fillet of beef, dark smoky sauce and potato terrine
Dessert buffet
Lingonberry parfé and salt caramel
Carrot tartalet and roasted white chocolate
A selection of national cheeses and rum-prune puree
Price
75,00 € /person + wine package 25,00 €/person = 100,00 €/person
Children 7 – 12 years 25,00 €
Children 3- 6 years 15,00 €
Book your table at our sales
Our sales will confirm your booking