Mother's Day buffet
Servings at Vanha Viilatehdas 11.00 / 14.00/ 17.00 o'clock
Servings at Kuninkaan Kartano 11.00/11.30 or 14.00/14.30 or 17.00/17.30 o'clock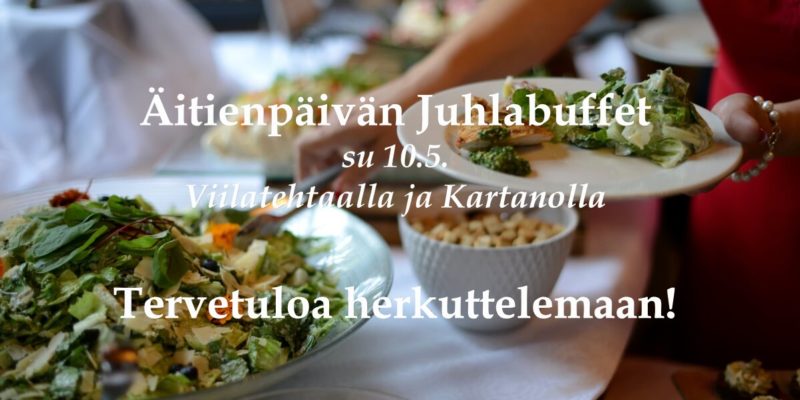 Treat your mum or granny and take her to enjoy Kuninkaan Lohi's traditional Mother's Day buffet!
The Mother's Day buffet is served in Vanha Viilatehdas and Kuninkaan Kartano! The buffet includes delicious treats for the whole family which are made with love and care.
Servings at Vanha Viilatehdas: 11.00 , 14.00 and 17.00 o'clock
Servings at Kuninkaan Kartano: 11.00/11.30 and 14.00/14.30 and 17.00/17.30 o'clock
Book a table by filling the form underneath or contact Myyntipalvelu
Myyntipalvelu
tel. 09 25325300 or email myyntipalvelu@kunikaanlohet.com 
Mother's Day buffet
Starter buffet
Salad of rhubarb and spring cabbage
Basil marinated tomatoes
Asparagus and mozzarella in herb oil
Caramelized cauliflower and roasted pecans
Herring caviar with rye and potato crêpes
Caesar salad with shrimps
Spruce shoot cured white fish on toast and dill creme
Smoked salmon mousse tartlet
Country salad with chicken
Quarry carpaccio with currant jelly
House's bread assortment of local flour
Malted loaf and nettle and basil butter 
Main course buffet
Lightly smoked salmon and false morel stew
New potatoes and spring vegetables
Elk roast, cherry tomato and broccolini broil with red wine sauce  
Dessert table
Orange and chocolate mousse cake
Strawberry and lime cake
Coffee/Tea
Children's buffet
Frankfurters and meatballs
Crispy chicken
Creamy gravy and tomato dipping sauce
French fries and potato mash
Carrot sticks and crispy cauliflower
Watermelon and cucumber
Ice-cream and marshmallows
Price
55,00 €/adult (over 12 y.)
18,00 €/children of age 7-12 y.
11,00 €/children of age 3-6 y.
no charge under 3 y.
---
Bookings for this event
Offer request