Father's Day's Banquet
Kuninkaan Kartano, settings at 12.00 and at 15.00
Vanha Viilatehdas, settings at 11.00, 14.00 and 17.00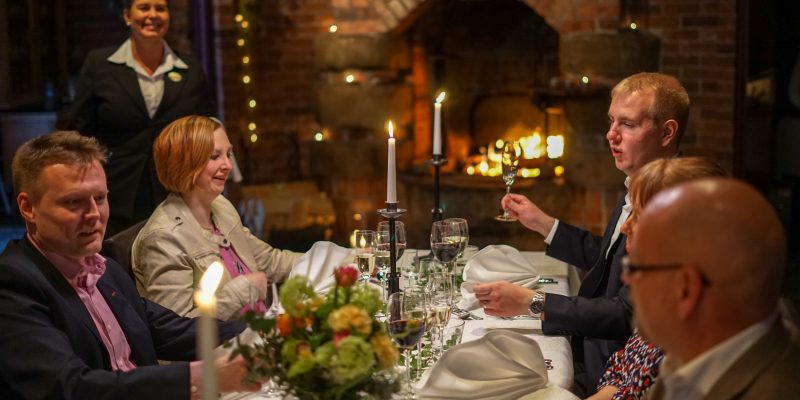 Delight the father with our delicious menu!
Bring the family and relatives together and come enjoy the traditional Father's Day's buffet at Kuninkaan Lohet.
The tasty buffet by our head chef Topi Multamäki is set both under the glimmering chandeliers at Kartano and by the amazing river rapid views at Viilatehdas!
Settings at Kuninkaan Kartano at 12.00 and at 15.00
Setting at Vanha Viilatehdas at 11.00, 14.00 and 17.00
Reservations need confirmation from the restaurant.
The event is pre-billed.
Sales
p. 09 253253 00
or myyntipalvelu@kuninkaanlohet.com
The Father's Day's buffet
Blueberry cured white fish and Aigrelette sauce
Piipanoja's smoked rainbow trout from Nauvola
Sprat tartar and zucchini à la Kartano
Shellfish salad and Pernod sauce
Kartano's salted venison and cranberry sauce
Country pâté and pickled funnel chanterelles
Viilatehdas' country salad
Green salad with date balsamic
Bread assortment: Bread of Krann's stead's flour, Maalahti's loaf and butter
Main course buffet
Robber's elk roast, mushroom sauce and Hasselback potatoes
Blazed archtic charr, roe and smetana sauce and broiled seasonal root vegetables
Dessert buffet
Chocolate cake
Cranberry cheesecake
Chocolate and marmalade
Coffee/Tea
Separate children's buffet
Happy frankfurters and meatballs LF
Crispy fish cutlets LF
Creamy brown sauce and lemon sour cream LF,GF
French fries and potato mash LF,GF
Boiled carrots and cauliflower DF,GF
Watermelon and cucumber DF,GF
Ice cream and marshmallows LF,GF
Prices
55,00 €      adults
18,00 €      children 7-12 y.
11,00 €      children 3-6 y.
children under 3 y. free
---
Bookings for this event
Offer request