Viilatehdas' Summer Brunches
Summer brunches served on summer Saturdays at 10.00 - 12.00
19.6., 3.7., 10.7., 17.7., 24.7., 31.7.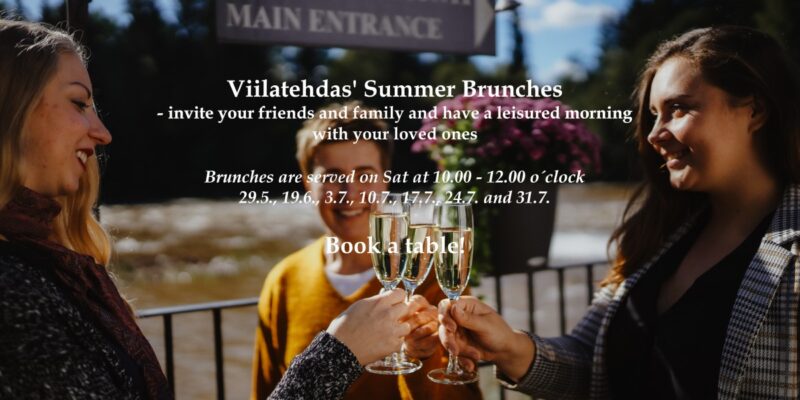 Welcome to treat yourself with our delicious buffet brunch with wide range of different options to pick! Sit down and take in the inspiring views of water rapids and awakening nature. The Saturday morning brunch is a great way to relax and enjoy the weekend with friends and family!
Our kitchen team has prepared the buffet with the best ingredients of the season: the salmon prepared at Kartano's smoker oven, the chicken barbequed at Viilatehdas' outside kitchen and the bread baked early in the morning. Brunch is served on buffet table. 
Take a pre-brunch spring stroll along the inviting forest paths with your family and feel the stress leaving your body as the trees surround you.
Book a table
Myyntipalvelu
tel. 09 25325300 or
myyntipalvelu@kuninkaanlohet.com
or the form below
Summer Brunch menu
House's bread assortment baked with local flour
Fresh croissants and rice pastries
Butter, herbaceous cream cheese, egg butter, and forest berry jam
Roasted seeds and herb croutons
Cheese:
port salut cheese,
brie cheese
and Västerbottens cheese
Cold cuts:
smoked pork fillet,
roast beef
and Napoli salami
Berry and oats smoothie
Natural yoghurt and Viilatehdas' granola
Caesar salad
New potato salad
Pickled red onion
Herb marinated shrimps and green asparagus
Dill peas
Marinated cucumbers
Beet root carpaccio and parsley paste
Home-made glow fried salmon
Barbequed chicken breast and pea pesto
Cheese omelet
Rhubarb pie and vanilla cream
Rasberry mousse cake and marinated strawberries
Dark roast coffee and infused tea
Fresh juice
Prices
29,00 €/person (13 y and over)
14,00 €/7-12 y
9,00 €/3-6 y
under 3 y free
---
Bookings for this event
Offer request