Atmospheric sauna area
After conferences and activities, saunas await bathers.
Vanha Viilatehdas
In the Maunu Eerikinpoika wooden sauna, the benches can be as high as 2.5 meters. On the highest benches, you can feel the heat of over a hundred grades, and on lower benches, you can enjoy lower heat. The sauna is warmed for 3-4 hours before using. When warmed once, there is enough heat for even three groups! Especially suitable for international groups who want to introduce Finnish sauna culture to foreign visitors!
In the Irina Wahlberg electric sauna, you enjoy the gentle heat of the lava stone stove. Despite its name, the electric stove offers a soft and humid sauna bath, and even 12 bathers fit on all the benches on one level. The windows show an awesome view of Vantaankoski!
The saunas are next to each other in the upper floor of the factory, and both saunas have their own dressing rooms. Thus men and women can use separate saunas at the same time, or bigger groups can spread into both saunas. Both saunas have their own dressing rooms and a mutual cooling area. In this sauna area, there is a lot of space for cooling off and lounging. Besides the saunas, you can use The Sauna Major's Cabinet, the terrace, and an atmospheric glass pavilion.
Kuninkaan Kartano
The sauna area of Kuninkaan Kartano is upstairs, and you can admire the verdant landscape of Vantaanjokilaakso from the sauna's balcony. Tens of bathers fit easily on the benches, and the megalith stove gives you a humid sauna bath! After the sauna, you can go to cool off on the balcony terrace. It is attached to Aurora's cabinet, where you can enjoy evening snacks during the sauna event, or maybe start a karaoke night!
Our saunas' equipment
thick terry towels
disposable cloths for sitting
shower soaps, shampoos, and conditioners
hairdryers
fridges with cold drinks; mild alcohol and soda (the cost depends on usage, you are not allowed to bring your own drinks)'
Reservations and info
Myyntipalvelu
tel. +358 9 253 253 00
myyntipalvelu@kuninkaanlohet.com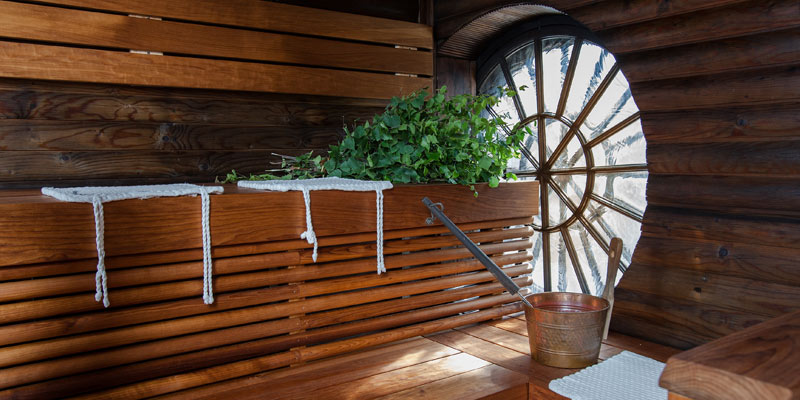 Evening snacks
FLAT BREAD BUFFET     25,00 €
Home made flat breads
Pulled pork and BBQ sauce spiced with tar (GF, MF)
Pulled oats and roasted tomato and sweet pepper sauce (VEG, GF)
Barbequed cherry tomato vinaigrette (VEG,GF)
Coleslaw (VEG,GF)
Green salad, tomato and red onion (VEG,GF)
Marinated jalopenoes (VEG,GF)
Tzatziki sauce (GF,LF), herb oil (VEG,GF) and Viilatehdas' garlic sauce (MF,GF
SALTY PIES (GF,LF) with green salad   19,50 €
SALTY PIES                                                      13,50 €
Smoked reindeer – cream cheese pie with pickled red onion (LF)
Green salad, tomatoes, cucumber and roasted sun flower seeds (VEG,GF)
Lightly salted salmon, spinache and leek – cream cheese pie and pickled cucumber
Green salad, tomatoes, cucumber and roasted sun flower seeds (VEG,GF)
Beet root, pumpkin and tofu cheese pie and pickled red onion
Green salad, tomatoes, cucumber and roasted sun flower seeds (VEG,GF)
SAUSAGES (GF,LF) (also available VEG)               23,00 €
clear potato salad (VEG,G), mustard, ketchup, baquette and butter
SAUNA SNACKS   9,50 €
Potato crisps, salted nuts, salted sticks
sweet chili mayo
Reservations and info
Myyntipalvelu
tel. +358 9 253 253 00
myyntipalvelu@kuninkaanlohet.com
Offer request