Corporate events
Are you planning corporate anniversay events or staff team building day? Are you looking for a place to arrange a christmas party or customer event? Restaurant Kuninkaan Lohet offers you an amazing experience at the lovely surroundings of River Vantaa.
We can arrange events for up to 500 people!
We plan the event just the way you want it and you can leave the arrangements to us!
You find everything from under the same roof, that's how you save money and time!
We offer you
ideas and planning
performers for the event
transportation
lights and sound techniques
marqueeses for bigger groups
catering and drinks
professional staff
security services
event management and maintanance
---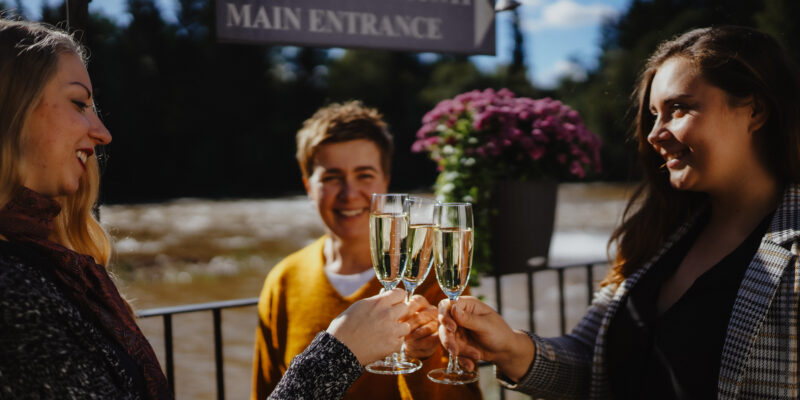 Summer Party
In Vanha Viilatehdas and Kuninkaan Kartano, we organize parties for the needs of as much as 500 people, and party packages can be modified to suit the group.
Party package example
Group size 80 – 150 persons
Package includes house sangria, bbq buffet, two glasses of wine, beer or sparkling water and privatte cabinet between 18.00-23.00 o'clock.
Price 67,50 €/person (VAT 0%)
BBQ buffet
Salad of cucumber and honeydew
Green salad and herb marinated new potatoes
Marinated tomatoes and grilled fennel
Strawberry and halloumi salad
Bread assortment and butter
Straight from the Grill
Chicken breast, salsa of fresh fruit and yogurt sauce
Honey and maple syrup glazed salmon
Spicy flank steak with chili and lime marinated king prawns
Ice cream buffet
Additional order for the summer party:
band and DJ-services
Hosts and Stand Up comedians
Magic and theatre
Activities and action
You can continue partying up to 2 am for additional cost and add evening snack of drink tickets to your order! Ask for more info!
Christmas party packages
Are you planning a Christmas party for your company or your team, but you are totally out of ideas?
Don´t worry! Have a look at ready planned packages and book it!
All our packages include program, food buffet or table served menus and a private cabinet for your group.We can also book for you stand up comedians, magicians, theatre, murder mysteries and amazing bands!
You can also make table reservations to our stand-up nights that are open for everyone!
We also have themed party packages, for examle Escape room at Viilatehdas, Murder mystery and Christmas Party Package
You can choose the venue from Vanha Viilatehdas with it's stone walls and cabinets full of athmosphere or Kuninkaan Kartano with it's fabulous crystal chandeliers. Ask for more info and let's start planning!
Themed social evenings
Themed social evenings are good for customer dinners, staff refreshment, pre-Christmas parties, or maybe anniversaries! Social events are held at Kuninkaan Kartanon and Vanha Viilatehdas, and every group gets their own cabinet area.
Our range of themes includes
An evening in Vanha Viilatehdas 'inn', which is perfect for the historical milieu.
The Oktoberfest has a great atmosphere from the very beginning!
Murder mystery dinners
Themed evenings are turnkey projects, and reserving them is easy. Just look at the themes and choose one for yourself!
Entertaining and performers
We help you to choose the perfect entertaining and performers for your event! You can choose from DJ's, classical music performances, Stand Up comedians, theatre, magicians, party bands and lot's more. Just call us and ask for more!
Offer request